Tweets by @NOAAHabitat

The Northeast Region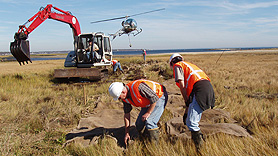 The Northeast Region is home to salt marshes, rivers, seagrass beds, shellfish reefs, and our nation's largest estuary—the Chesapeake Bay, which has been recognized as a national treasure. These important natural resources face challenges from pollution, development, overfishing, invasive species, and barriers to fish passage. Since 1996, the NOAA Restoration Center has supported approximately 874 community restoration projects in the region, benefiting almost 1,500 acres of estuarine and riparian habitat and opening nearly 1,000 miles of in-stream habitat for migratory fish.
What We Do
Most river and streams in the Northeast contain fish passage barriers; in fact, returning Atlantic salmon in Maine are at an all-time low in part because of river barriers. To address this issue, we work with our partners in the Northeast Region to improve fish passage by removing dams—some of which are centuries old and no longer in use—and constructing fish ladders, which allow fish to access spawning and nursery grounds upstream.
In the Chesapeake Bay, hardened shorelines—shorelines that have been "armored" with concrete seawalls and bulkheads—increase coastal erosion and reduce habitat. To combat this issue, we work to implement "living shorelines," which replace these hardened shorelines with natural materials to reduce erosion and provide critical habitat.
In Rhode Island, 50 percent of all salt marshes have been destroyed due to human activity, and 30 percent of Connecticut wetlands have been lost due to urban dredging, filling, and development. In response, we restore salt marsh beds and widen bridges and culverts to improve tidal flow in coastal wetlands.
Case Study: Salt Marsh and Fish Passage Restoration, Sesuit Creek, Massachusetts
This $1.2 million project restored a salt marsh and fish passage for migrating herring on Cape Cod and, in the process, restored the entire watershed. The restoration involved replacing a failed, 2-foot diameter culvert beneath Bridge Street in Dennis, Massachusetts, with two 12-foot wide by 10-foot tall box culverts—60 times the size of the original culvert. This wider opening allowed much more saltwater to flow upstream, where it restored the marsh's natural tidal flow, salinity, and native vegetation, bringing life back to 65 acres of salt marsh. The increased flow also allows river herring to swim upstream to spawn in Scargo Lake.
The project also addressed a public safety problem. Bridge Street had a recurring sink hole in the road because of the failed culvert, causing the town to close the bridge over Sesuit Creek to traffic for several months in 2007. The new culverts allow vehicles to safely travel over the creek; a new sidewalk promotes pedestrian safety for a once-dangerous crossing.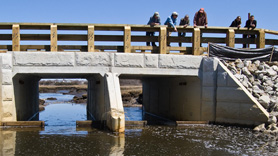 Credit: Massachusetts Division of Ecological Restoration.