Tweets by @NOAAHabitat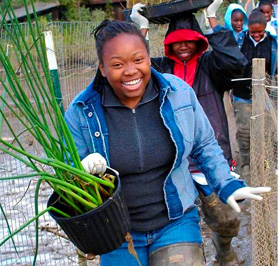 Meet Our Partners
Working Together to Restore Our Coasts
With the number of threats facing our coastal habitats, there is simply too much work for any one organization to tackle alone. We work with our partners to determine where we can have the biggest impact, and where funding and technical assistance are needed the most. Partners contribute staff time, expertise, and local knowledge of restoration issues. They often bring additional funding to projects to leverage federal dollars.
Below is a list of the national and regional partners we have joined over the past decade in a shared dedication to restoring coastal and marine habitat.
American Rivers

American Rivers is dedicated to protecting and restoring rivers nationwide and to fostering a river stewardship ethic. In addition to protecting nationally significant rivers, their programs focus on dam removal and other river-related issues. Since 2001, NOAA and American Rivers jointly provided funding and technical assistance for more than 100 fish passage restoration projects.




Association of National Estuary Programs

The National Estuary Program (NEP) was established in 1987 to identify, restore, and protect nationally significant estuaries of the United States. The nonprofit group works to build support for the implementation of estuary plans at the national level. The partnership between NOAA and the ANEP conducted restoration projects to benefit estuarine habitats and the fish and wildlife that depend on them. The partnership restored more than 110 acres of fisheries habitat, conducting culvert replacement, erosion cont




California Coastkeeper Alliance

Coastal inhabitants of California have long depended on the high productivity of offshore kelp beds. Kelp beds support a high diversity of plants and animals—almost more than any other ocean environment. Because of their ecological and economic value, kelp forest protection and restoration are critically important to supporting fisheries and endangered species. The partnership between NOAA and the California Coastkeeper Alliance conducted kelp restoration at six sites in southern California, with nearly 10 acres of habitat restored.




California Conservation Corps

The California Conservation Corps is the oldest, largest, and longest-running youth conservation corps. Its mission is to engage youth in meaningful work, public service, and educational activities. These activities assist them in becoming more responsible citizens, while protecting and enhancing California's environment, human resources and communities. This partnership began in 2004 to restore habitat throughout California that are vital to the recovery of salmon, steelhead, and other wildlife.




California Salmon Partnership (Institute for Sustainable Forestry)

The California Salmon Partnership (CSP) was conceived to achieve more productive future for fish and forests. The CSP-NOAA partnership removed two fish migration barriers, opening up several miles of spawning and rearing habitat for steelhead and a small number of Coho salmon. Projects included riparian vegetation improvement, invasive species removal, and stream bank stabilization efforts. These measures helped reduce sedimentation into stream systems and create habitat for spawning and rearing juvenile salmon.




California State Coastal Conservancy

The California State Coastal Conservancy is a state agency that uses entrepreneurial techniques to purchase, protect, restore, and enhance coastal resources. The Conservancy provides support for the state's new multi-agency California Ocean Protection Council, which helps coordinate and improve the protection and management of California's ocean and coastal resources. Since 2007, the partnership has been working to fund and implement priority state-wide projects identified by the Conservancy, NOAA, and the Southern California Wetlands Recovery Project.




Center for Watershed Protection

The Center for Watershed Protection works to protect, restore, and enhance streams, rivers, lakes, wetlands, and bays. Their objective is for every community to have clean water and healthy natural resources that sustain diverse life. This partnership is implementing restoration projects to reduce the impacts of land-based sources of pollution—primarily sediment, nutrients, and toxin—on coral reef ecosystems. The partnership also benefits from the support of NOAA's Coral Reef Conservation Program.




Chesapeake Bay Trust

The Chesapeake Bay Trust engages the public in the protection and restoration of the Chesapeake Bay and its tributary rivers and streams. Funding provided by the Trust sparks on-the-ground change in communities throughout Maryland and works to cultivate a new generation of Bay stewards. Its goal is to increase stewardship through grant programs, special initiatives, and partnerships that support environmental education, on-the-ground restoration, and community engagement activities.




Connecticut River Watershed Council, Inc,

The goal of NOAA's partnership with the Connecticut River Watershed Council was to reconnect the river system of the Connecticut River watershed, which has been fractured by dams. This partnership reopened a number of those vital tributaries to spawning fish through nine projects in Connecticut, Massachusetts, and New Hampshire. The partnership opened up more than 50 miles of previously-inaccessible river habitat by removing dams and installing fishways. The program also increased opportunity for recreational and commercial fishing and an expanded food chain for wildlife.




Ducks Unlimited

Ducks Unlimited (DU) seeks to improve the ecosystem functions and values of nearly every type of wetland habitat in North America. Ducks Unlimited is particularly concerned about the fate of coastal marshes and the values they provide. DU believes coastal wetland restoration and sustainability, particularly in light of climate change, are important conservation issues. NOAA's partnership with DU restores coastal wetlands. In 2010, the partnership focused on the Cullinan Ranch Project in northern San Francisco Bay, which restored 1,575 acres of tidal wetlands.




EarthCorps

The partnership between NOAA and EarthCorps implemented restoration projects that benefited fish and wildlife in the Puget Sound region. These projects built diverse community support for environmental restoration for coastal habitats through volunteer participation, partnerships with other service organizations, and hands-on learning opportunities. The partnership restored more than 110 acres and involved more than 7,500 volunteers enhancing salmon habitat, restoring tidal connections, and barrier removal projects.




Ecotrust

Founded in 1991, Ecotrust is a nonprofit organization that works to foster a natural model of development that creates more resilient communities, economies, and ecosystems. The organization acts as the coordinator of the Whole Watershed Restoration Initiative, a public-private competitive funding program that focuses on salmon habitat restoration efforts in areas of high ecological importance in the Pacific Northwest. NOAA and Ecotrust have been working together since 2007 to restore the natural functions of whole watersheds in Oregon, Washington, and Idaho. We also work to amplify community-based partnerships focused on the strategic restoration of Pacific salmon and steelhead ecosystems. This partnership has restored nearly 500 acres of habitat for fish and wildlife and opened more than 380 miles of river for fish passage.




FishAmerica Foundation

As the conservation and research arm of the American Sportfishing Association, the FishAmerica Foundation is a dedicated leader in efforts to protect and restore the nation's recreational fisheries habitat. Since 1998, FishAmerica has partnered with NOAA to help communities implement coastal and marine habitat restoration projects to benefit the nation's fisheries and to improve sportfishing opportunities and success. This partnership, to date, has funded nearly 300 habitat restoration projects that have restored, enhanced, or protected more than 10,500 coastal and riparian acres, and more than 450 stream miles.




Gulf of Maine Council on the Marine Environment

The Gulf of Maine Council on the Marine Environment (the Council) fosters cooperative actions and strives to maintain and enhance environmental quality and sustainable resources in the Gulf of Maine through restoration, education, prevention, and protection. Our partnership with the Gulf of Maine Council Habitat Restoration Partnership began in 2001 to conduct habitat restoration projects throughout the Gulf of Maine.




Gulf of Mexico Foundation

The Gulf of Mexico Foundation represents a wide range of interests–agriculture, business, fisheries, industry, tourism, and environment–and works to promote and fund restoration, research, education and conservation programs. Their focus encompasses areas that border the Gulf and the U.S. territories in the Caribbean. Our partnership was established in 2001 and emphasizes restoration in Gulf Ecological Management Sites that support grass-roots efforts to restore seagrass beds, oyster and coral reefs, marsh and wetland and other habitats. In all, NOAA has contributed more than $3 million to support more than 50 habitat restoration projects.




Gulf of Mexico Sea Grant

The Gulf of Mexico Sea Grant College Programs are university-based programs that utilize research, extension, outreach and education to foster understanding, wise use and stewardship of coastal and marine resources. The programs serve a region of diverse coastal ecosystems—from the swampy marshes of Florida and Louisiana to the subtropical forests of Mississippi and Alabama and the barrier islands of Texas. The Mississippi-Alabama Sea Grant Consortium facilitates the Gulf Sea Grant College Program's partnership with the NOAA's Restoration Center.




Hawai'i Community Foundation

Hawai'i Community Foundation is the largest and one of the oldest philanthropic foundations in the state. Hawai'i's diverse and unique coastal and marine resources are vital to the social, cultural and financial well-being of communities in Hawai'i. This partnership funds diverse, community-led restoration projects that serve to not only provide environmental benefits, but community benefits as well.




Louisiana Department of Natural Resources

Coastal Louisiana is part of a large, continuous wetland system that loses approximately 25 square miles of wetland habitat every year. Long-term restoration activities are critical to ensure the longevity of the state's ecologic and economic resources, which include commercial and recreational fisheries, oil and gas production infrastructure, and maritime commerce. This partnership conducted six large-scale habitat restoration projects, restoring more than 730 acres of habitat, including salt marshes, seagrass beds, oyster reefs, mangrove forests, and shellfish beds.




Lower Columbia Estuary Partnership

The Lower Columbia River is a vast and complex system that supports a variety of endangered salmon, marine mammals, and habitats (salt marshes, tidal flats, wetlands, seagrasses and kelp, and oyster reefs). NOAA's work with the Lower Columbia Estuary Partnership restored more than 260 acres of habitat. These projects restored and enhanced tidal connections in both Washington and Oregon. Restoration actions also included improving wetlands and aquatic plant communities in tidal areas, restoring shallow channels in inter-tidal areas, and removing marine debris.




National Association of Counties

The National Association of Counties is the only national organization that represents county governments in the United States. Our partnership encouraged innovative, county-level projects that restored important marine and coastal habitats. The program helped county governments, citizen groups, and other local organizations conduct community-based restoration that enhanced local watershed-based resource management and promoted stewardship. Nineteen projects were completed, restoring more than 250 acres and opening more than 20 miles to fish passage.




National Fish and Wildlife Foundation

The National Fish and Wildlife Foundation (NFWF) has been a partner with the NOAA Restoration Center since 1996, providing support for community-based habitat restoration projects in priority coastal areas. The NFWF-NOAA partnership provided financial and technical assistance to organizations to support priority conservation projects. This partnership encompassed a national scope of projects and programs benefiting commercial marine and migratory fish, shellfish, submerged aquatic vegetation, and other endangered/threatened marine life. The partnership supported more than 450 projects.




National Wildlife Federation

The National Wildlife Federation (NWF) is a leader in protecting and restoring the health of our natural habitats, ecosystems, and wildlife. NWF and its partners are helping wildlife and ecosystems adapt to current and future impacts from climate change. Through our partnership, the Federation will provide technical support and expertise to ensure that NOAA restoration projects funded are "climate smart." This includes working on project design and implementation, with careful attention to accommodating or countering projected climate change impacts to a particular region.




Ocean Trust

The focus of Ocean Trust's partnership with NOAA was to restore important commercial fishery habitat in select coastal U.S. communities, and to develop long-term partnerships with the fishing sector in these regions. Restoring and enhancing coastal habitat is critical for many commercial fish species, and for the survival of coastal communities that depend on fishery and shellfish resources of the United States. This partnership funded 26 projects in 16 states to restore the habitats of these resources.




Pacific Institute for Fisheries Resources

Due to its rich biodiversity and high productivity, San Francisco Bay is considered one of the most important estuaries on the west coasts of both North and South America. It is nursery habitat for important salmon and crab fisheries, as well as critical habitat for numerous endangered species. The partnership between NOAA and the Pacific Institute for Fisheries Resources supported community-led restoration projects in the San Francisco Bay area. The partnership conducted four projects, restoring nearly four acres of high quality native oyster and salmon habitat.




People for Salmon

People for Salmon was created to implement a pilot training program for volunteers and develop a public outreach and education program to encourage and stimulate the use and participation of volunteers in salmon recovery. People for Salmon provided the critical support and resources that volunteer organizations and private landowners need to implement science-based cost-effective habitat projects to recover salmon. People for Salmon's restoration scope focused on Chinook and Coho salmon habitat, as well as for various groundfish species. NOAA provided funding for 12 projects throughout the state between 2001 and 2003.




Puget Sound Partnership

The Puget Sound Partnership is a community effort of citizens, governments, tribes, scientists, and businesses working together to restore and protect Puget Sound. Puget Sound Partnership has worked with NOAA since 2010 to restore critical habitat for threatened and endangered species and foster long-term stewardship of resources in Puget Sound. This partnership restored more than 630 acres of habitat for fish and wildlife. A primary focus of this partnership is restoring ecosystem processes in major river deltas—highly productive estuarine areas at the mouth of major river systems—which is essential to the recovery of degraded habitats in Puget Sound. This work is also a top priority of the NOAA-approved Puget Sound Salmon Recovery Plan.




Restore America's Estuaries

Restore America's Estuaries is a leader in national efforts to protect, conserve and restore our nation's estuaries. Its mission is to restore one million acres of estuary habitat. Since 2000, Restore America's Estuaries has been working with NOAA to preserve the nation's network of estuaries by protecting and restoring the lands and waters essential to the richness and diversity of life. Together, we've completed close to 400 restoration projects in 16 states. Restoration efforts are ongoing, and additional accomplishments are expected. Restore America's Estuaries is a coalition of 11 of the nation's most effective community-based conservation organizations that are working to protect and restore coastal estuaries.




The Nature Conservancy

The Nature Conservancy is dedicated to preserving the plants, animals, and natural communities that represent the diversity of life on earth by protecting the lands and waters they need to survive. NOAA's partnership with The Nature Conservancy began in 2001 to protect marine biodiversity though habitat restoration with an emphasis on science, community-based cooperation, and strong collaboration. The partnership funds restoration activities nationwide across a range of habitat types, with an interest in native shellfish restoration projects that emphasize the services society derives from healthy and functional shellfish ecosystems.




Trout Unlimited

Trout Unlimited (TU) is the nation's largest grassroots coldwater fishery organization. They work to conserve, protect, and restore North America's trout and salmon fisheries and their watersheds. Since 2001, TU has partnered with NOAA to fund and implement habitat restoration projects to benefit coldwater fisheries. The partnership has funded 76 projects in 12 states to restore nearly 1,900 acres of habitat and more than 1,100 miles of river for fish passage. Projects aim to reconnect stream habitat and to increase in-stream habitat complexity and quality.




Southeast Aquatic Resources Partnership

The Southeast Aquatic Resources Partnership (SARP) is a regional collaboration of natural resource and science agencies, conservation organizations, and private interests developed to strengthen the management, conservation, and restoration of aquatic resources in the southeastern United States. In 2007, NOAA established a partnership with SARP, in association with the Southeastern Association of Fish and Wildlife Agencies. This partnership supports projects that restore coastal habitats in the nine Southeastern coastal states that border the Gulf of Mexico and South Atlantic Coast. Projects have restored oyster reef, salt marsh, mangrove, and seagrass habitats.




Washington Department of Fish and Wildlife

The Washington Department of Fish and Wildlife (WDFW) aims to preserve, protect and perpetuate fish, wildlife, and ecosystems while providing sustainable fish and wildlife recreational and commercial opportunities. The goal of WDFW's partnership with NOAA was to significantly expand the agency's role in developing and implementing on-the-ground actions throughout the Puget Sound region that advance regional and local salmon recovery and near-shore ecosystem recovery plans. The partnership funded 12 restoration projects, restoring more than 1,100 acres of nearshore habitat in Puget Sound.