Tweets by @NOAAHabitat

Now Accepting Nominations for the 2016 Dr. Nancy Foster Habitat Conservation Award
NOAA Fisheries Office of Habitat Conservation is soliciting nominations for the 2016 Dr. Nancy Foster Habitat Conservation Award, honoring excellence in habitat conservation in the coastal and marine environment.
Deadline is June 17, 2016.
Eligibility
Nominees must have demonstrated extraordinary dedication, innovation, and excellence to NOAA-related habitat conservation fields. Contributions may include any work to protect, restore, manage, study, or promote the stewardship of marine, coastal, or riverine habitats and the species supported by these ecosystems.
Private citizens (or the groups or organizations they represent) or public servants (or the agencies they represent) may be nominated for their work, volunteer efforts, support, or other contributions to marine habitat conservation efforts.
Nominations previously submitted (and not awarded) may be resubmitted with an updated cover letter and any new materials.
Selection Process

An award recipient will be selected by a committee of experts familiar with marine habitat conservation fields.
How to Apply
Each application must be accompanied by a completed nomination form.

Submit electronic examples of work, including publications, photographs, videos, or other materials, as well as the completed nomination form, via a single email to: FosterAward.nominations@noaa.gov
Letters of support are welcome and must be submitted electronically with the nomination package.
Questions
Email: Kara Meckley, Phone: (301) 427-8642
More about Dr. Nancy Foster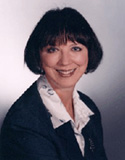 A marine biologist from Electra, Texas, Dr. Nancy Foster dedicated 23 years of outstanding service to NOAA, leaving a remarkable imprint on the agency. After earning a masters in marine biology from Texas Christian University and a doctorate in marine biology from George Washington University, Dr. Foster began her tenure at NOAA in 1977. In 1986 she joined NOAA Fisheries and under her direction, NOAA created the Office of Habitat Conservation, the NOAA Restoration Center, and the NOAA Chesapeake Bay Office. Dr. Foster served as acting assistant administrator and then deputy assistant administrator of NOAA Fisheries before leaving to become assistant administrator of the NOAA Ocean Service in 1997.
Dr. Foster died in June 2000 after a year-long battle with cancer. Throughout her life she carved the path as a pioneer and visionary in understanding marine ecosystems and their conservation and as a mentor to many who followed her into a career with NOAA.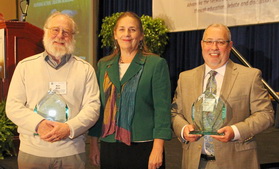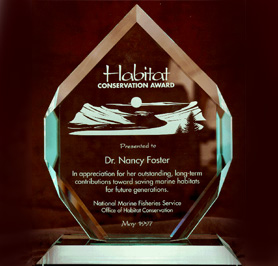 Previous Award Winners
Dr. Kenneth Able – 2014
Kelly Hepler & John Cooper – 2014
Eric Schwaab - 2012
Mary Yoklavich - 2012
Dr. Garry Mayer - 2012
Robin Bruckner – 2011
Stan Moberly – 2011
Bob Hoffman – 2011
Dr. Charles Rabeni – 2010
Charles Simenstad – 2009
Peter Wellenberger – 2008

Dr. Usha Varanasi – 2007

Dr. Elliot A. Norse – 2006

Peter Clark – 2005

Carlos Fetterolf – 2004

Dr. Lawrence P. Rozas – 2003

Worrall Reed "Nick" Carter, III – 2002

Nathaniel Bingham – 1998

Dr. Nancy Foster – 1997