Tweets by @NOAAHabitat

2014 Dr. Nancy Foster Habitat Conservation Award
2014 Winners
Dr. Kenneth Able
Dr. Able is a Distinguished Professor of Marine and Coastal Sciences at Rutgers University in New Jersey, and director of Rutgers University Marine Field Station.
He has dedicated 37 years to research and teaching the science of biology, ecology, and restoration of fishery habitat resources. Dr. Able is recognized nationally and internationally as an expert on fish habitat, striving to better understand fishery survival in a changed environment and to help improve management of fishery resources.
Kelly Hepler and John Cooper
John Cooper and Kelly Hepler led the implementation of the National Fish Habitat Action Plan and Partnership.
During Kelly Hepler's tenure as Chair of the National Fish Habitat Board, they completed the first national fish habitat assessment and the second edition of the National Fish Habitat Action Plan. Kelly has also had a long career with the Alaska Department of Fish and Game.
Serving in both federal and state resource agencies in South Dakota, John Cooper devoted himself to fish and wildlife management. As the first Chair of the National Fish Habitat Board, he cultivated partnerships among multiple groups to reach habitat conservation goals.
More about Dr. Nancy Foster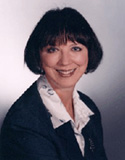 A marine biologist from Electra, Texas, Dr. Nancy Foster dedicated 23 years of outstanding service to NOAA, leaving a remarkable imprint on the agency. After earning a masters in marine biology from Texas Christian University and a doctorate in marine biology from George Washington University, Dr. Foster began her tenure at NOAA in 1977. In 1986 she joined NOAA Fisheries and under her direction, NOAA created the Office of Habitat Conservation, the NOAA Restoration Center, and the NOAA Chesapeake Bay Office. Dr. Foster served as acting assistant administrator and then deputy assistant administrator of NOAA Fisheries before leaving to become assistant administrator of the NOAA Ocean Service in 1997.
Dr. Foster died in June 2000 after a year-long battle with cancer. Throughout her life she carved the path as a pioneer and visionary in understanding marine ecosystems and their conservation and as a mentor to many who followed her into a career with NOAA.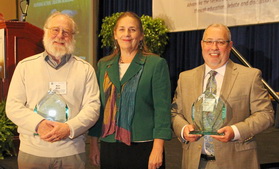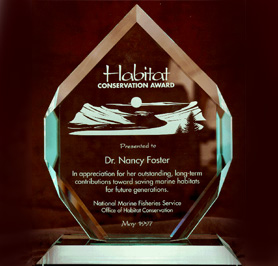 Previous Award Winners
Dr. Kenneth Able – 2014
Kelly Hepler & John Cooper – 2014
Eric Schwaab - 2012
Mary Yoklavich - 2012
Dr. Garry Mayer - 2012
Robin Bruckner – 2011
Stan Moberly – 2011
Bob Hoffman – 2011
Dr. Charles Rabeni – 2010
Charles Simenstad – 2009
Peter Wellenberger – 2008

Dr. Usha Varanasi – 2007

Dr. Elliot A. Norse – 2006

Peter Clark – 2005

Carlos Fetterolf – 2004

Dr. Lawrence P. Rozas – 2003

Worrall Reed "Nick" Carter, III – 2002

Nathaniel Bingham – 1998

Dr. Nancy Foster – 1997