Tweets by @NOAAHabitat

Excellence in Restoration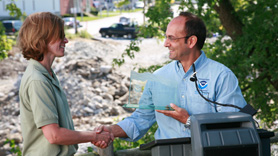 The Excellence in Restoration awards were established by the NOAA Restoration Center to recognize leaders in coastal restoration. Every year, we give out the award to a few deserving recipients, chosen based on the following criteria:
Restoration Excellence—the qualities and actions that distinguish the nominee in the area of restoration.
Partnerships—how well the nominee effectively collaborated with partners and NOAA
Stewardship—how well the nominee developed community support or volunteer presence.
Ecological Significance—the importance of the restoration project to the ecosystem and surrounding community.
Award Recipients
2011
Sam Farr, Congressman, California's 17th District—for his dedicated leadership and support of
conservation of the nation's ocean and marine resources

Chris Miller, City of Brewster, Massachusetts—for his work on the Stony Brook restoration project
Maxwell Schenk, City of Gloucester—for outstanding marine resource stewardship on the Mill Pond habitat restoration project (1998-2011)
2010
David Bean, New Jersey Department of Environmental Protection—for his work on the Lincoln Park Wetland Restoration Recovery Act project
Gordon Smith, Huntington Beach Wetlands Conservancy—for his work on the Magnolia Marsh Restoration Recovery Act project
Kathy Evans, West Michigan Shoreline Regional Development Commission—for her efforts on the Muskegon Lake Restoration Recovery Act project
Ken Nedimyer, Coral Restoration Foundation—for his involvement with the Threatened Coral Recovery and Restoration Recovery Act project
Todd Miller, North Carolina Coastal Federation—for his work on the North Carolina Estuary Habitat Restoration Recovery Act Project
2009
Kevin Braun, Town of North Hempstead, New York
C.W. Cafarellli, Volunteer, North Shore Audobon
Mary Normandia, Volunteer, North Shore Audobon
Tim Smith, Massachusetts - Wetlands Restoration Program
Barataria-Terrebone, National Estuary Program
Laura Wildman, American Rivers
2008
Calapooia Watershed Council
Deborah Loiselle, New Hampshire Department of Environmental Protection
Denise Hoffert Hay, Calapooia Watershed Council
2006
Betsy Peabody, Executive Director, Puget Sound Restoration Fund
Doreen Silakowski, Science Teacher, Henry Hudson Regional School
Holly Kent, Executive Director, Anchorage Waterways Council
Louisiana Department of Natural Resources
Northwest Straits Commission
Save the Bay (San Francisco)
Todd Meyer, Marin Rod and Gun Club