Tweets by @NOAAHabitat

Regional Ecosystem Conservation
In support of President Obama's Interagency Ocean Policy Task Force, our role is to help "establish and implement an integrated ecosystem protection and restoration strategy that is science-based and aligns conservation and restoration goals at the federal, state, tribal, local, and regional levels." Below are brief descriptions of our involvement in these place-based efforts.
Chesapeake Bay

In response to the President's Executive Order that calls for renewed effort to restore and protect the nation's largest estuary and watershed, the NOAA Chesapeake Bay Office is collaborating with representatives from other federal agencies to draft reports on the effects of climate change, science for decision-making, and habitat for living resources, as well as the overall strategy for protecting and restoring the bay. NOAA will collaborate on an annual Chesapeake Bay Action Plan that describes how federal funding will be allocated toward bay restoration in the upcoming year. It will be accompanied by an annual progress report that reviews indicators of environmental conditions and assesses implementation of the strategy.

Louisiana/Mississippi

As part of the Louisiana-Mississippi Gulf Coast Ecosystem Restoration Working Group established by the President, NOAA is coordinating with other federal agencies to work with the states to develop a shared long-term vision for the region that will achieve concrete, measurable, and significant restoration and protection results. NOAA is working on habitat conservation and sediment management issues, recommending modification and improvements to federal funding opportunities, and providing data and information to support the overall effort.

Great Lakes

Our Great Lakes Habitat Restoration Program is working with the U.S. EPA to implement the President's Great Lakes Restoration Initiative, a $475M effort for FY2010 to "restore the chemical, biological, and physical integrity of the Great Lakes." Much of NOAA's habitat work in the region supports restoration priorities in environmentally degraded areas within the Great Lakes basin through partnerships, grants, and technical support.

Puget Sound

The Puget Sound Partnership is a collaborative effort to protect and restore Puget Sound's ecosystem, diversity, and way of life by 2020. NOAA's Restoration Center is actively involved in identifying and implementing priority habitat restoration actions and is helping to streamline the process of identifying, funding, and permitting restoration projects.

Lower Columbia River

Encompassing 4,300 square miles, one of the main concerns for the Lower Columbia is blockage of fish passage by dams and conservation of essential fish habitat for key fisheries. The area also includes many communities that are susceptible to the effects of climate change, exacerbated by reduced shoreline resiliency as a result of shoreline hardening and the degradation of estuary ecosystems. To achieve measurable restoration goals, NOAA's Restoration Center developed community partnerships to work with landowners, deliver technical assistance, and coordinate multiple funding sources implement estuary restoration projects.

San Francisco Bay Delta

This is another collaborative interagency effort to promote a healthy and sustainable Bay-Delta ecosystem that provides for a high-quality, reliable, and sustainable long-term water supply for California and restores the environmental integrity and sustainability of the system. There is potential for NOAA to play a significant role in Bay-Delta restoration efforts.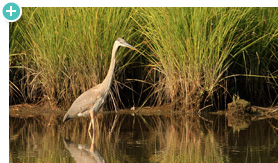 Useful Links