Tweets by @NOAAHabitat

News
Oregon Fishermen Help Clean Up Marine Debris
Left on the sea floor, marine debris like crab pots and lines can trap marine wildlife and create boating hazards. Our partnership with the Oregon fishing industry, now almost complete, removed derelict crab pots while employing off-season crab fishermen. This project, which received more than $700,000 in Recovery Act funds from NOAA in 2009, removed nearly 3,000 derelict crab pots and other debris from the ocean.
NOAA Restoration Center and Marine Debris Program staff worked closely with the project manager to improve monitoring techniques, outreach efforts, and disposal of recovered gear. None of the recovered gear went to a landfill. All usable crab pots were returned to their owners, and through the Fishing for Energy partnership, disposal bins were placed along the Oregon coast, enabling fishermen to dispose of and recycle the gear free of charge.
The Oregon Dungeness Crab Commission, Oregon Department of Fish and Wildlife, and NOAA Marine Debris Program have decided to capitalize on the project's success. They formed a partnership to support an industry-led effort to remove additional derelict crab pots after this project ends. Crab fishermen will remove lost crab pots and bring them back to shore for re-use and recycling. Salmon and trawl fishermen may also participate to assist the project.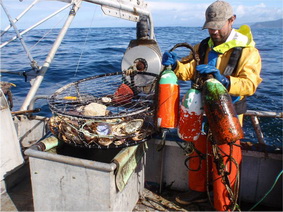 Useful Links