Tweets by @NOAAHabitat

Highlights
Restored Habitat in Oregon Benefits Salmon, Creates Jobs
For the first time in more than 60 years, fish can find respite along the side channels of the Willamette River in Eugene, Oregon. Water from the river can now flow through newly created channels at Delta Ponds and Heron Slough for a total of 2.5 miles, before meandering back into the river. And we're already seeing fish return to the habitat.
In the mid-19th century, side channels on the Willamette were mined for gravel and disconnected from the river. The fish lost access to the slower water flows the channels provided. But with Recovery Act funding from NOAA, these side channels have been reconnected to the river and restored to a more natural state. Now, threatened Chinook salmon are able rest, feed, and grow larger in these calm areas.
Our partner, the City of Eugene, put contractors to work with the Recovery Act funding. They hired landscapers who used more than 60,000 cubic yards of soil to create more naturally sloped riparian areas and seeded them with native plants. Excavators dug out seven channels to link the ponds back to the river. We also hired people to remove invasive plants from the area and install interpretive trails throughout the complex. The trails are already being used, and the newly restored area is being embraced by the community.
Major restoration work was completed this year, and we are now monitoring the ponds to track our progress. So far this winter, more than 50 young Chinook have been observed in the ponds—more than we've seen there in decades! This is a good sign: these fish will be stronger and healthier as they migrate out to the Pacific.
Posted February 21, 2012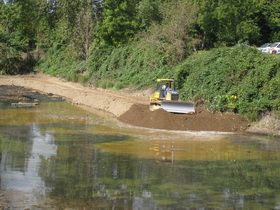 Useful Links