Tweets by @NOAAHabitat

Highlights
NOAA Restoration Center Awards $11 Million for Coastal Restoration Projects

The NOAA Restoration Center has announced new three-year partnerships to restore coastal habitat. The partnerships received more than $11 million to work with community organizations and local governments to support locally-driven habitat restoration projects. The Restoration Center has been working in partnership since 1998, providing millions of dollars and technical assistance to conduct more than 2,000 grassroots habitat restoration projects.
"Partnerships are key to accomplishing habitat restoration most effectively and efficiently," said Erich Schwaab, Assistant Administrator for NOAA Fisheries. "With these partners, NOAA will remove dams and other fish passage barriers, restore wetlands and oyster reefs, and promote stewardship of coastal habitats throughout the United States." The organizations NOAA is partnering with include:
New Partnerships
Center for Watershed Protection – This partnership will implement restoration projects and support capacity-building activities within U.S. states and territories bordering coral reef ecosystems to reduce the impacts of land-based sources of pollution, primarily sediment, nutrients, and toxics. The partnership also benefits from the support of NOAA's Coral Reef Conservation Program.
Ducks Unlimited – This national partnership will restore coastal wetlands, including tidal and freshwater marshes in the Pacific Coast from Puget Sound to San Francisco Bay, the Gulf Coast, the Atlantic Coast from Florida to New Jersey, and the Great Lakes region. In 2010, the partnership will focus on the Cullinan Ranch Project in northern San Francisco Bay to restore 1,575 acres of tidal wetlands.
Hawaii Community Foundation –The Hawaii Community Foundation will conduct coastal and nearshore habitat restoration projects, with an emphasis on community cooperation and conservation based on traditional cultural practices. Strong projects will be those benefitting primarily coral reefs, coastal wetlands and estuaries, nearshore fishponds, and stream habitat of the Hawaiian Islands.
National Wildlife Federation - The Federation will provide technical support and expertise to ensure that restoration projects funded through various Restoration Center programs are "climate smart." This includes working with potential grantees on project design and implementation with careful attention to accommodating or countering projected climate change impacts to a particular region. Initial work will focus in the Great Lakes and Chesapeake Bay regions.
Puget Sound Partnership - This partnership will build on years of previous NOAA Restoration Center work in the watershed and will focus on the major river deltas in Puget Sound where there is a high likelihood of re-creating ecosystem function. Restoration of the delta habitats is essential to the overall recovery of Puget Sound, and is particularly important to recovering threatened Chinook salmon.
The University of Southern Mississippi - In the first year, this partnership will work with the Gulf of Mexico Sea Grant Programs to involve their network of extension agents in gathering local knowledge of damaged coastal habitats in need of restoration. Sea Grant will use this information to select habitat restoration projects for funding and scientific evaluation.
Continuing Partnerships
American Rivers – The Restoration Center has partnered with American Rivers since 2001 to fund the removal of dams and other river barriers in order to restore free-flowing rivers and open fish passage to upstream habitat. Projects funded under this partnership provide important benefits to fish species that migrate between river and the ocean at various life stages.
California Conservation Corps – This partnership will engage young men and women in on-the ground habitat restoration for salmon and steelhead throughout Coastal California. Conservation Corps members receive training and learn environmental skills as they work to install in-stream large wood to improve habitat, remove invasive species and plant native trees, remove fish passage barriers and assist state partners with salmon population monitoring.
California State Coastal Conservancy - This partnership funds priority projects identified by the Southern California Wetlands Recovery Project (SCWRP), as well as priority state-wide projects identified by SCC and NOAA. The SCWRP is a broad-based group that includes public agencies, non-profit organizations, scientists, and local communities working cooperatively to protect and restore rivers, streams, and wetlands in coastal southern California.
Chesapeake Bay Trust - The Restoration Center will continue to work with Chesapeake Bay Trust to support living shorelines projects, which use 'soft' engineering techniques as an alternative to hardened structures to protect shorelines from erosion while restoring natural habitats such as tidal wetlands. The partnership plans to expand after this year to focus on four key issues in the Chesapeake Bay watershed: fisheries habitat restoration, headwaters habitat restoration, wetlands restoration, and living shorelines.
Ecotrust- This will support the Whole Watershed Restoration Initiative, a partnership among Ecotrust, NOAA, the Oregon Watershed Enhancement Board, the U.S. Forest Service, the Bureau of Land Management, and the Natural Resources Conservation Service. The coalition will restore the natural functions of whole watersheds in Oregon, Washington, and Idaho, while amplifying community-based partnerships focused on the strategic restoration of Pacific salmon and steelhead ecosystems.
FishAmerica Foundation – This partnership will support locally-driven, hands-on sport fish habitat restoration projects. Typical projects include: improving fish passage in rivers; reef, salt marsh and mangrove restoration; stream bank revegetation; enhancement of feeding, spawning and growth habitat; and reestablishment of historic watershed hydrology.
Gulf of Mexico Foundation - The Restoration Center has partnered with the Foundation since 2001 to restore coastal habitats along the Gulf Coast, including sand dunes, marshes, and oyster reefs. In 2005 the partnership began to fund projects in the U.S. Territories of the Caribbean, resulting in many successful projects that have restored corals, mangroves, and wetlands in Puerto Rico and the U.S. Virgin Islands. To date, this partnership has supported 69 community-based restoration projects.
Restore America's Estuaries - Since 2000, the eleven member organizations of Restore America's Estuaries have collaborated with NOAA to fund and implement key community-based restoration projects. Additional efforts with a national focus include sponsoring the 5th National Conference on Coastal and Estuarine Habitat Restoration and a workshop to explore developing a national estuary restoration youth corps.
Southeastern Association of Fish and Wildlife Agencies - The Restoration Center works with the Southeast Aquatic Resources Partnership to fund projects along the southeast Atlantic coast and the Gulf of Mexico that restore coastal habitats such as oyster reefs, seagrass beds, and coastal wetlands. These community-based projects benefit NOAA trust resources and support the Southeast Aquatic Habitat Plan, and further NOAA's goals for improving coastal habitats under the National Fish Habitat Action Plan.
The Gulf of Maine Council - The Restoration Center will continue to work with the Gulf of Maine Council to support projects that benefit migratory fish species in the Gulf of Maine, including opening access to freshwater spawning areas and restoration of intertidal salt marshes for nursery and feeding functions. The partnership also supports restoration of other priority habitats including riverine habitat, eelgrass in subtidal areas, and shellfish restoration.
The Nature Conservancy – Since 2001, the NOAA Restoration Center has partnered with The Nature Conservancy to fund overmore than 100 projects across the nation. The partnership funds innovative restoration activities nationwide across a range of habitat types, with an interest in native shellfish restoration projects that emphasize the services society derives from healthy and functional shellfish ecosystems.
Trout Unlimited – The NOAA Restoration Center has partnered with Trout Unlimited since 2001 to fund more than 40 projects that restore coastal watersheds important to fish that rely on healthy rivers and streams. This renewed partnership will work to restore or open access to river habitat, with restoration activities focusing in Alaska, California and the Northeast. A new component will be a focus on water conservation in California.
With this funding, the partner organizations work with NOAA staff to identify and implement community-based restoration projects. For more information about each of these partnerships, or to find out how to apply for funding, visit www.restoration.noaa.gov.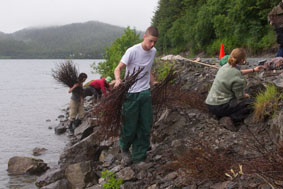 Useful Links