Tweets by @NOAAHabitat

Highlights
Landfill Turned Urban OasisóWetland Now Home to Fish and Birds
The Lincoln Park restoration project in Jersey City, New Jersey has done something remarkable: turned a once-barren landfill into a functioning wetland, teeming with fish, birds and other wildlife. This project, only a few miles from Manhattan on the banks of the Hackensack River, is an urban oasis for wildlife in an area that used to only be home to trash. And, since it received Recovery Act funding in 2009, this project has supported roughly 100 direct jobs so far.
Working with local contractors, we restored tidal waters to the site by excavating dredge and landfill material—40,000 truckloads in total. The contractors capped the former landfill with sand, then recreated contours to the land to restore tidal creeks and wetlands. This has reopened passage for fish to a tidal pond. All told, we created 42 acres of wetland. We also created a half mile walking path to connect the park to the Liberty Water Gap National Trail.
Before the restoration, there was little wildlife in the area besides the occasional sea gull. But during recent monitoring, we've spotted 12 species of fish, including alewives and striped bass, using the wetlands for refuge. We also observed more than 50 bird species, including egrets and osprey, and have spotted other wild animals like the mink. The park is now used by boaters, hikers, bikers, and anglers.
The project has been in the works for more than 15 years, since New Jersey received Natural Resource Damage Assessment settlements for three large oil spills in nearby waterways. With a $10 million boost from the Recovery Act, we worked with the New Jersey Department of Environmental Protection and other partners to get the work done. This team is now being recognized for its perseverance and dedication with a Partnership Award from Coastal America.
Posted August 29, 2012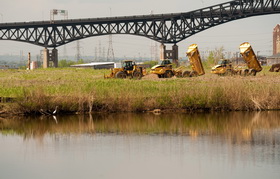 Useful Links