Tweets by @NOAAHabitat

Highlights
Dam removal opens fish passage on Patapsco River in Maryland
On October 21, NOAA and its partners gathered at the site of the Simkins Dam in Catonsville, Maryland to celebrate the Patapsco River Restoration project. The project will open 20 miles of stream habitat along the Patapsco River in Maryland and its tributaries, a critical step in restoring the Patapsco River and restore the health of the river and strengthen the environmental community.
Eric Schwaab, Assistant Administrator for NOAA Fisheries, grew up nearby and used to fish on the river. At the event, he said, "Not only is my head in this one. My heart is in this one."
While NOAA awarded American Rivers $4 million in funding from the American Recovery and Reinvestment Act funds for this project in February 2009, we have actually been involved with this project for several years. Along with American Rivers, Maryland Department of Natural Resources and the Friends of the Patapsco Valley State Park, we have worked to implement this project and develop partnerships for future dam removals in the watershed.
The project is creating local jobs while returning this portion of the Patapsco River to a thriving, free-flowing river. It is also part of a larger effort in the Patapsco watershed – with a potential removal of the downstream Bloede Dam, nearly 300 miles of fish passage could be opened on the Patapsco and its tributaries.
You can track the progress of the dam removal on our Patapsco Dam Cam.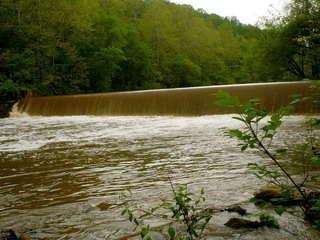 Useful Links