Tweets by @NOAAHabitat

Highlights
Recovery Act Marine Debris Removal Project Wraps Up in Washington
This month, the Northwest Straits Marine Conservation Foundation completed 18-months of intensive derelict gear removal from Puget Sound in Washington. All told, they removed more than 2,400 gill nets from the Sound, and restored nearly 230 acres of underwater habitat in the largest marine debris removal project ever supported by NOAA. The project employed 30 people, including divers, who worked on four full-time removal boats to remove the derelict gear in waters 100 feet deep.
Derelict gillnets capture and kill marine mammals, birds, fish, and invertebrates such as Dungeness crab. This project effectively eliminated derelict fishing nets as a major source of marine species mortality and habitat damage. These net removals will benefit threatened Southern Resident Orca whale, Chinook salmon, and chum salmon. Removal teams included members of the Nisqually, Puyallup and Squaxin tribes, as well as other commercially trained divers.
The Foundation received $4.6 million in Recovery Act funding from NOAA to complete this phase of the project. Their long-term goal is to remove the threat of derelict fishing nets from the Sound. For more information about this project and NOAA restoration projects nationwide, visit www.noaa.gov/recovery.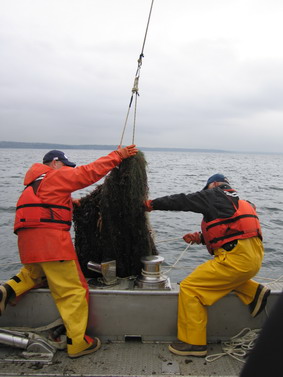 Useful Links