Tweets by @NOAAHabitat

Highlights
Penobscot River Restoration Project Takes Major Step Toward Opening 1,000 Miles of Habitat
A new chapter has begun for Maine's Penobscot River: the Penobscot River Restoration Trust took ownership of three dams on the river as part of an ongoing restoration project. This large-scale, ecosystem-level project will remove the Veazie and Great Works dams and build a fish bypass around the Howland dam. The Trust purchased the dams from PPL Corporation for $24 million, which included funds provided by NOAA through its Community-based Restoration Program and the Open Rivers Initiative.
The project will open up nearly 1,000 miles of river habitat, long blocked by dams, to eleven species of sea-run fish, such as endangered Atlantic salmon, sturgeon, and river herring.
The three dams are currently used for hydropower generation. The Trust will continue to operate the projects until the time of removal. Energy generation lost as a result of the removals and decommissioning will be replaced by expanding capacity at existing projects primarily within the Penobscot River watershed. When the project is complete, hydropower generation will be maintained at the same levels as before the project began, and may even increase.
The project will also create new community and economic benefits throughout the watershed. The removal of the Great Works dam, which was partially funded by NOAA through the Recovery Act, will yield nearly $5 million in jobs for the region including engineering, hydrology, construction, science, and local contracting services. Similar benefits are expected for the Veazie Dam removal and Howland bypass construction. With the dams removed, fishers, kayakers, and paddlers will have increased opportunities for recreation on the river.
The purchase was part of collaboration between the Trust, NOAA and other federal and state agencies, the Penobscot Indian Nation, and seven conservation groups. Permits from the Federal Energy Regulatory Commission, Maine Department of Environmental Protection, and the U.S. Army Corps of Engineers were approved earlier this year.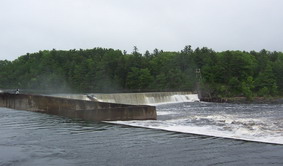 Useful Links