Tweets by @NOAAHabitat

Highlights
Maunalua Project Removes 1 Million Pounds of Algae
Workers for the Maunalua Bay Reef Restoration Project, also known as "The Great Huki," have been on the job less than four months, yet already they have completed a major milestone: they have removed 1 million pounds of invasive algae from Maunalua Bay!
This project is being implemented by The Nature Conservancy with funding from NOAA through the Recovery Act. Local workers are restoring coral reefs in Maunalua Bay, Hawaii through manual removal of invasive alien algae from 22 acres. The restored habitat will enable seagrass and corals to flourish in the Bay.
The project will provide significant ecological benefits and transform existing small-scale community removal efforts already underway into a large-scale removal model. Local communities are experiencing first-hand how their efforts can succeed at a larger and more biologically meaningful scale. The project is also employing Bay residents and engaging a larger proportion of businesses and families in stewardship of the Bay.
The million pounds of invasive algae removed so far has been turned into compost by local farmers and other green waste facilities. The removal has allowed native sea grass, sting rays, fish and seabirds to return to these newly cleared areas. By the end of the project, the team anticipates removing more than 3 million pounds of algae.
For more information about this project, visit our Recovery Atlas.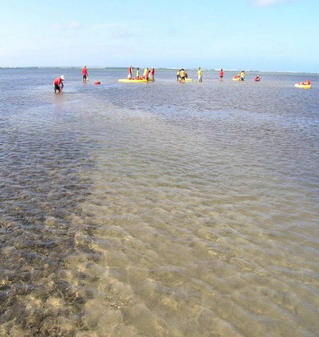 Useful Links