Tweets by @NOAAHabitat

Highlights
Largest Dam Removal in U.S. History Begins With Help from NOAA
September 21, 2011


This past weekend, work began on the biggest dam removals ever undertaken in the United States. The Elwha River was once the largest producer of salmon on Washington's Olympic Peninsula. But in the early 20th century, two dams were built on the river, blocking fish passage. Before they were built, salmon could swim more than 100 miles up the river to spawn. With the construction of the dams, those fish now only have access to only five miles of river—which has drastically reduced salmon populations in the area.
The Elwha Dam is more than 100 feet high, and the Glines Canyon Dam stretches to 210 feet. Due to their size, and the massive amount of sediment trapped behind them, the removals will be complex—taking two years to complete. NOAA funded a series of restoration projects that helped prepare the river and surrounding floodplain for the dramatic changes anticipated when the dams are removed.
Through the Recovery Act we worked with our partner, the Lower Klallam Elwha Tribe, to:
strategically place engineered log jams in the river, which increases channel complexity and improves salmon habitat
remove abandoned flood control dikes to improve estuary and floodplain connectivity
plant native vegetation within the restored floodplain.
These activities will improve the habitat conditions of more than 80 acres within the lower Elwha River. They will also help support the recovery of salmon populations in the river—including Puget Sound Chinook salmon and Puget Sound Steelhead, both listed as threatened under the Endangered Species Act.
After the removals, salmon will have access to pristine habitat within the Olympic National Park, free of the impacts from cities, factories, or agriculture.
It is estimated that within 30 years, the river will produce 390,000 salmon and steelhead each year. NOAA aims to continue to monitor the habitat conditions within the river and the response of salmon to the restoration efforts and dam removal.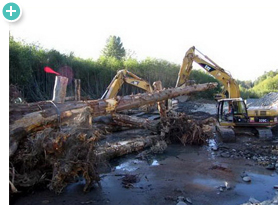 Useful Links