Tweets by @NOAAHabitat

Highlights
Removing Marine Debris in the Great Lakes
If you've ever heard of the wreck of the Edmund Fitzgerald,a freighter that sunk in Lake Superior in 1975, you know that marine debris isn't just a problem on our coasts. The Great Lakes also face the issue of marine debris—that is, trash, fishing gear, and even boats that are abandoned in our waterways. At our Fordson Island, Mich. restoration project, we worked with our partner, Friends of the Rouge, to remove 12 boats and other debris from the Rouge River near Detroit.
Stretching over nearly nine acres, Fordson Island provides refuge for fish and wildlife in the industrial Rouge and Detroit River systems. But boats and other debris had collected in the shallow water around the island. Some of the boats had been there for decades. With assistance from the Coast Guard, the Friends of the Rouge used a backhoe and tow lines to pull the abandoned boats out of the water. They also removed more than 400 cubic yards of debris from the shorelines—enough to fill the beds of 100 pickup trucks!
Wetland habitat is all but missing from this portion of the Rouge. Removing the marine debris from this site will improve habitat for fish and wildlife by allowing native vegetation to return to the site. It will also improve recreational fishing opportunities by creating spawning and nursery habitat in the Detroit River system, where more than 90 percent of the original fish spawning grounds have been lost.
We will monitor the island's recovery over the next year to document the return of native plants and wildlife. We also expect that water quality will improve as wetland plants return, stabilizing the river bottom and filtering out pollutants.
The ecosystem services associated with the corals reefs of Guam are likely to be impacted as a result of the planned relocation of approximately 8,600 Marines, dependents, and support personnel from military bases in Okinawa to Guam. This move will also require the construction of support facilities and a new deep-draft wharf for ships. NOAA has been engaged in consultations with the Navy and other federal partners to identify ways to reduce the impacts to coral habitat due to dredging and wharf construction. Ecosystem services concepts, including the use of Habitat Equivalency Analysis, will be used to help guide this process.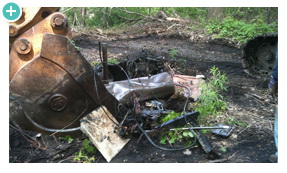 Useful Links