Tweets by @NOAAHabitat

Highlights
Condit Dam Removed with a Bang—Fish and Boaters Cheer
October 28, 2011


Boom! That noise you just heard was the start of the Condit Dam removal on the White Salmon River in Washington. The removal is one of the largest dam breaching projects in the country. It will restore the White Salmon watershed to its natural state and reopen 33 miles of habitat to migrating Chinook salmon and steelhead.
Yesterday, crews used dynamite to blast open a tunnel at the base of the dam. More than 27 million gallons of water—the equivalent of 40 Olympic-sized swimming pools—were released downstream. The event sent roughly 1.8 million cubic yards of sediment down the White Salmon River. Water will flow through the breached dam until next summer when crews will finish dismantling the structure.
The dam's removal will restore the river to its natural free-flowing state, allowing salmon and steelhead to reach historic spawning grounds again. The river is also a premier whitewater destination—ten outfitters run commercial trips and at least 40,000 boaters use the river each year. Dam removal will create additional recreation opportunities by opening up an additional five miles for rafting and kayaking.
About the Condit Dam
For nearly a century, the Condit Dam has harnessed the energy of the White Salmon River. It originally powered the Crown Columbia Paper Company and more recently supplied electricity to 7,000 local homes. The dam limited once-vibrant runs of salmon, preventing them from reaching their historic habitat above the dam. The runs have declined so significantly that Tule fall Chinook salmon, steelhead, and bull trout are now protected under the Endangered Species Act.
In 1996, PacifiCorp—the owner and operator of the dam—was directed by NOAA Fisheries to provide adequate fish passage for threatened salmon and steelhead as part of the Federal Energy Regulatory Commission relicensing process. The company found that it would be more cost effective to decommission and remove the dam. PacifiCorp worked with NOAA, other federal and state agencies, the Yakama Nation, and environmental groups to remove the dam.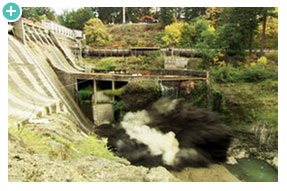 Useful Links