Tweets by @NOAAHabitat

Highlights
Restoration Transforms Abandoned Naval Golf Course into Healthy Coastal Marsh
NOAA and its partners restored approximately 12 acres of salt marsh on Noisette Creek, a tributary of the Cooper River near the City of North Charleston, SC. These efforts were part of a larger restoration plan developed through the Damage Assessment, Remediation, and Restoration Program to address the natural resource impacts and ecosystem service losses from the Everreach oil spill.
In 2002, approximately 12,500 gallons of oil spilled out of the container ship M/V Everreach as it pulled away from North Charleston. The oil was seen over some 30 miles of shoreline—including tidal flats, marshes, oyster reefs, and sandy beaches—as well as docks, piers, and bulkheads.
As a result of this restoration, the public will be able to enjoy a beautiful natural shoreline. The restored habitat will support activities like boating, fishing, shellfish harvest, and shrimp baiting. Our project partners will monitor the wetland enhancements over the next five years to ensure its success.
This project is the first completed of all the restoration projects planned for the 135-acre Noisette Creek Preserve. It has created momentum for several similar projects in this small urban watershed. We are aligning these restoration efforts with the larger goals for the City of North Charleston's smart and sustainable growth. We are building stronger, greener coastal communities and supporting a thriving local economy—a win for both the environment and the people of North Charleston.
Posted April 29, 2013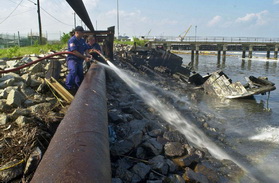 Useful Links