Tweets by @NOAAHabitat

Highlights
Six Projects Selected for Funding Would Increase Coastal Resiliency, Improve Habitat
Today, NOAA is announcing $4 million in recommended funding for six projects under the 2015 Coastal Ecosystem Resiliency Grants Program. The program is part of NOAA's comprehensive approach to building coastal resiliency.
These on-the-ground restoration projects will not only enhance ecosystem resiliency to the impacts of extreme weather and changing environmental conditions, but will also provide habitat to support sustainable fisheries and contribute to the recovery of protected species.
Recommended funding would support:
The Washington State Department of Fish and Wildlife, in partnership with Snohomish County –to restore natural function to 389 acres of wetlands in the Snohomish River Basin of Puget Sound, Washington ($1.45 million)
The Town of Exeter, New Hampshire will remove a dam on the Exeter River – to restore approximately 21 miles of the River and its tributaries to a free-flowing condition, eliminate a barrier to migrating fish, improve water quality, and reduce flooding from coastal storms ($610,000)
The Humboldt County Resource Conservation District in California – to build on early restoration efforts by restoring a portion of the Salt River and lower Francis Creek. Restoration will include rehabilitating the channels and associated riparian floodplain and improving instream habitat. ($650,000)
The Town of Harwich, Massachusetts in concert with the Town of Chatham and Massachusetts Division of Ecological Restoration – to restore 55 acres of tidal wetlands in Muddy Creek by replacing two existing undersized culverts with a single span bridge and trapezoidal channel ($300,000)
The Southwest Florida Water Management District and Lemon Bay Conservancy – to improve the tidal connectivity between Lemon Creek and Lemon Bay, enhance existing freshwater and estuarine wetlands, add 14 acres of wetlands, remove exotic vegetation, and add native plants ($420,000)
The North Carolina Coastal Federation – to create living shorelines on both public and private lands across the North Carolina estuarine coast ($570,000)
At this point in the selection process, the application approval and obligation of funds is not final and funding levels may be modified. Each of these applications is being "recommended."
Resilience is the ability of an ecosystem or community to absorb, recover from, and more successfully adapt to adverse events such as extreme weather or long-term changing environmental conditions, such as sea level rise. The primary focus of this grants program was the development of healthy and sustainable coastal ecosystems through on-the-ground habitat restoration actions.
Posted December 1, 2015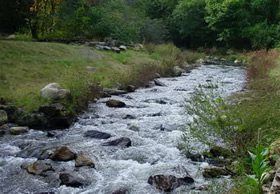 Useful Links