Tweets by @NOAAHabitat

Highlights
California's Largest Dam Removal Project Makes History
Just two years after this project began, state and federal agencies are now looking forward to the complete dismantling of the 106-foot-high San Clemente Dam. This is the largest dam removal project in California and one of the largest in the nation. The dam is located less than 20 miles from the Pacific Ocean on Carmel River. The project will open 25 miles of critical stream habitat to federally threatened steelhead trout.
In the early 1990s, the California Department of Water Resources found that the dam could fail in the event of a major earthquake or flood. The removal will also address issues with the structure's earthquake soundness.
With any dam removal project, engineers must determine how to remove sediment that has built up behind the dam. In this case, 2.5 million cubic yards of sediment had accumulated behind the dam. Engineers determined that two common approaches— trucking the sediment out or to letting it flow downstream—were not feasible. Instead, a half-mile portion of the Carmel River was rerouted. This innovative approach reduced the overall project costs and lowered environmental impacts downstream.
The California State Coastal Conservancy led the dam removal, along with NOAA and the Planning Conservation League Foundation.
The next steps in this project are to begin habitat restoration, including creating a series of step pools for steelhead. They will make the slope of the river more gradual and provide a resting place for steelhead as they make their way upstream. Native vegetation planted along the stream edges will help stabilize the stream banks, further improving the quality of the habitat. Finally, a 32-foot dam downstream from the San Clemente Dam will also be removed in 2016, opening more stream miles for steelhead.
Posted September 1, 2015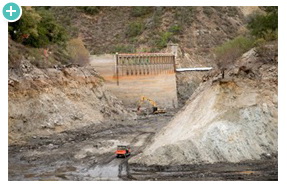 Useful Links