Tweets by @NOAAHabitat

Marine Debris

Through NOAA's Marine Debris Program, the NOAA Restoration Center administers the Community-based Marine Debris Prevention and Removal Grants Program. This funding supports locally driven, community-based marine debris prevention and removal projects that benefit coastal habitat, waterways, and wildlife including migratory fish.
With this grant program, NOAA has funded 87 marine debris removal projects and removed more than 4,800 metric tons of marine debris from our oceans since 2006.
About Marine Debris
Marine debris is a global problem that affects the environment, human safety, and commerce. It includes any material that is disposed of or abandoned in the marine environment, ranging from a plastic bottle thrown on the beach, to a ship that has been abandoned on a sand bar, or fishing gear trapped under the sea. The debris can be found on shorelines and beaches around the world, near the coast where most fishing is done, and floating in the open ocean, thousands of miles from its point of entry.
Marine debris can scour, break, smother, and otherwise damage important marine habitat, such as coral reefs. Many of these habitats serve as the basis of marine ecosystems and thus they are critical to the survival of many other species. Wildlife can also ingest or become entangled in marine debris.
Together with our partners, NOAA is working to research, prevent, and reduce marine debris, as well as educate the public to become better stewards of our oceans.
For more information, click on the links below: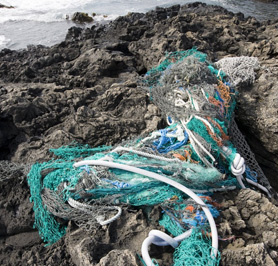 Useful Links