Tweets by @NOAAHabitat

Funding Opportunities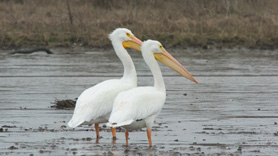 NOAA awards grants and cooperative agreements to support research and conservation initiatives coordinated by state and local governments, non-profits, colleges and universities. Within these pages you'll find more details about specific funding opportunities for the following areas:
Funding Opportunity
Funding Range
Description
States Available
Deadline
Up to $3.5 million over the next three years, contingent upon final appropriations. Minimum requests of $50,000 and maximum requests of $250,000 for the first year of funding with no more than $650,000 for the entire three years. Typical awards will range from $150,000 to $600,000 over three years. One to three year proposals will be accepted.
The principal objective of this solicitation is to identify and support comprehensive and cooperative habitat conservation projects and activities in NOAA Habitat Focus Areas (HFAs) that sustain resilient and thriving marine and coastal resources, communities, and economies.
Alaska, California, Delaware, Florida, Guam, Hawaii Maine, Maryland, Michigan, and Puerto Rico
February 2, 2017
Up to $250,000 for a two-year period
NCBO's Fisheries Research Program targets better understanding of fisheries status, trends, and ecosystem value to inform ecosystem based management of Chesapeake Bay estuarine species and habitats. The program seeks to establish a strong understanding of the Chesapeake Bay system, the complex connections among organisms and their habitats, multispecies interactions, and the wide range of processes that affect their dynamics.
Applicants may be from any state, but projects must focus on the Chesapeake Bay
January 19, 2017
$100,000 to $2 million
Through this solicitation, NOAA seeks to implement projects that use a proactive approach to improve or restore coastal habitat to: 1) strengthen the resilience of U.S. marine and coastal ecosystems and decrease the vulnerability of communities to extreme weather and 2) support sustainable fisheries and contribute to the recovery of protected resources. Applicants may submit one or more projects to be completed in one, two, or three years.
National
August 16, 2016
$100,000 to $5 million over three years
This funding opportunity focuses on coastal habitat restoration projects that aid in recovering listed species and rebuilding sustainable fish populations or their prey. Applicants may submit one or more projects to be completed in one, two, or three years.
National, not including the Great Lakes
April 6, 2016
Up to $150,000
Funds projects provide hands-on environmental education about issues affecting the Chesapeake Bay watershed for students and related professional development for teachers, administrators, and other educators who serve formal K-12 audiences
States in the Chesapeake Bay watershed.
February 4, 2016
Funding of approximately $5,000,000 is expected to be available to establish habitat restoration Partnerships in 2016, with annual funding anticipated to maintain them for up to three years. Individual awards are anticipated to range between $1,000,000 and $40,000,000 in federal funds for the entire three-year partnership. Typical Partnership awards are expected to range from $1,000,000 to $5,000,000 per year.
Through this solicitation, NOAA seeks to openly compete funding available for multi-year Great Lakes regional habitat restoration partnerships (Partnerships). Partnerships will result in implementation of a wide-range of individual habitat restoration projects focused in
U.S. Great Lakes Areas of Concern (AOCs)
with funds provided by the Great Lakes Restoration Initiative. Priority projects in AOCs have been identified and continue to be identified for GLRI funding each fiscal year. The Partnership should be flexible related to which AOCs they may work in, and be able to work with NOAA and other federal and state agencies to continue to identify and implement priority projects in targeted AOCs. Note: This is NOT a request for individual habitat restoration project proposals.
Illinois, Indiana, Michigan, Minnesota, New York, Ohio, Pennsylvania and Wisconsin
February 2 , 2016
$50,000 to $500,000 for a two-year period
Funds projects supporting comprehensive and cooperative habitat conservation project(s) that sustain resilient and thriving marine and coastal resources, communities, and economies in three newly-selected NOAA Habitat Focus Areas
Florida, Puerto Rico, Alaska
Closed