Tweets by @NOAAHabitat

Funding Opportunities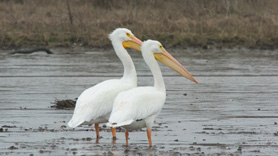 NOAA awards grants and cooperative agreements to support research and conservation initiatives coordinated by state and local governments, non-profits, colleges and universities. Within these pages you'll find more details about specific funding opportunities for the following areas:
Funding Opportunity
Funding Range
Description
States Available
Deadline
$50,000 to $500,000 for a two-year period
Funds projects supporting comprehensive and cooperative habitat conservation project(s) that sustain resilient and thriving marine and coastal resources, communities, and economies in three newly-selected NOAA Habitat Focus Areas
Florida, Puerto Rico, Alaska
March 30, 2015
Up to $150,000
Funds projects provide hands-on environmental education about issues affecting the Chesapeake Bay watershed for students and related professional development for teachers, administrators, and other educators who serve formal K-12 audiences
States in the Chesapeake Bay watershed.
January 14, 2015
Up to $15 million may be available. One year requests for habitat implementation: $500,000 - $6 million. One year requests for engineering and design: $75,000 - $350,000. Multi-year cooperative agreement awards: $750,000 - $10 million.
Through this solicitation, NOAA seeks to openly compete funding available for habitat restoration in
U.S. Great Lakes Areas of Concern
under the Great Lakes Restoration Initiative. This year, we will also consider one-, two-, or three-year proposals for cooperative agreements. NOAA delivers funding and technical expertise to restore Great Lakes coastal habitats. These habitats support valuable fisheries and protected resources; improve the quality of our water; provide recreational opportunities for the public's use and enjoyment; and buffer our coastal communities from the impacts of changing lake levels.
Illinois, Indiana, Michigan, Minnesota, New York, Ohio, Pennsylvania and Wisconsin
February 26, 2015
$100,000 to $10,000,000 over three years
This funding opportunity focuses on coastal habitat restoration projects that aid in recovering listed species and rebuilding sustainable fish populations or their prey. Applicants may submit one or more projects to be completed in one, two, or three years.
National, not including the Great Lakes
Closed—next competition anticipated in fall 2014 or 2015
$15,000 -$350,000
Funds individual grass-roots marine debris prevention and removal projects that benefit coastal habitat like wetlands and coral reefs, as well as fisheries, marine mammals, sea turtles and waterways.
National
Deadline - November 17, 2014