Tweets by @NOAAHabitat

What We Do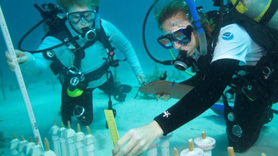 Goals
Our efforts to protect and restore habitat help sustain and enhance ecosystem health and production. In 2010, we aim to accomplish the following:
Protect more than 14.7 million acres of coastal, marine, and Great Lakes habitat from harmful impacts and achieve a 90 percent success rate in getting reduce adverse effects to habitat.
Restore 6,925 acres of habitat for ocean, coastal, and Great Lakes fish and wildlife, and open 630 stream miles for migratory fish.
Engage the public with 100,000 volunteer hours in hands-on activities associated with habitat protection, restoration, education, and outreach.
Programs and Activities
Our programs and activities directly support the nationís communities and economy. We strive to improve the conditions of coastal and marine habitat to ensure its health and sustainability as well as its ability to adapt to climate change. These efforts foster clean coastal waters and rebuild productive commercial and recreational fisheries, recover protected species, support tourism worth billions of dollars annually, and protect coastal communities from storms and flooding.
Habitat Protection
Restoration Center
Chesapeake Bay