Tweets by @NOAAHabitat

Our Statutory Authorities
There are nearly 30 legal authorities and additional guidance that drive our habitat conservation programs. The primary legal authorities include: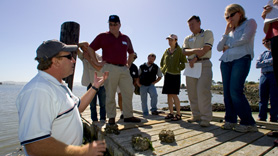 Magnuson-Stevens Fishery Conservation and Management Act

The Magnuson-Steven Act provides for the conservation and management of the nation's fishery resources through the preparation and implementation of fishery management plans (FMPs). The Magnuson-Steven Act calls for NOAA Fisheries to work with regional Fishery Management Councils to develop FMPs for each fishery under their jurisdiction.

Essential Fish Habitat. One of the required provisions of FMPs specifies that essential fish habitat (EFH) be identified and described for the fishery, adverse fishing impacts on EFH be minimized to the extent practicable, and other actions to conserve and enhance EFH be identified. The MSA also mandates that NOAA Fisheries coordinate with and provide information to federal agencies to further the conservation and enhancement of EFH. Federal agencies must consult with NOAA Fisheries on any action that might adversely affect EFH. When NOAA Fisheries finds that a federal or state action would adversely affect EFH, it is required to provide conservation recommendations.

Community-based Restoration Program. The Magnuson-Steven Fishery Conservation and Management Reauthorization Act of 2006 authorized the Community-based Restoration Program to implement and support the restoration of fishery and coastal habitats by providing federal financial and technical assistance for local restoration and to promote stewardship and conservation values for NOAA trust resources. This act also authorizes NOAA to update scientific information and protocols needed to improve restoration techniques for a variety of coastal habitat types and synthesize the results in a format easily understandable by restoration practitioners and local communities.

American Recovery and Reinvestment Act

The act provided funding for a range of activities which include: preserving and creating jobs, promoting economic recovery, and investing in economic protection and other infrastructure that will provide long-term economic benefits. NOAA's Recovery Act funds total $167 million for habitat restoration. Already, this funding has begun to provide federal financial and technical assistance to shovel-ready projects that meet NOAA's mission to restore marine and coastal habitats that result in stimulation of local economies through the creation or retention of restoration-related jobs.

Federal Power Act

Under the Federal Power Act, the Federal Energy Regulatory Commission (FERC) has the exclusive authority to license non-federal hydropower projects on navigable waterways and federal lands. FERC also uses its Federal Power Act authority to exercise jurisdiction over alternative, or hydrokinetic (wave, tidal, current), ocean energy development projects through the issuance of preliminary permits for pre-licensing activities in coastal and ocean energy proposals.

Federal Power Act grants NOAA Fisheries the authority to prescribe alternative fish passage methods and propose conservation measures to address any adverse effects to fish and wildlife resources at hydropower projects licensed by FERC. Licensing and re-licensing proceedings cover years of negotiations between multiple stakeholders that result in license conditions that govern the operations of the hydropower project for 30 to 50 years.

In this process, NOAA Fisheries provides the perspective of migratory fish and their habitat, sometimes requiring alternative fish passage at dams to improve fish passage and recommending conditions to the license that will protect or improve habitat and fish populations.

Fish and Wildlife Coordination Act

The Fish and Wildlife Coordination Act, as amended in 1964, requires that all federal agencies consult with NOAA Fisheries, U.S. Fish and Wildlife Service, and state wildlife agencies when proposed actions might result in modification of a natural stream or body of water. Federal agencies must consider effects that these projects would have on fish and wildlife development and provide for improvement of these resources. The Fish and Wildlife Coordination Act allows NOAA Fisheries to provide comments to the U.S. Army Corps of Engineers during review of projects under §404 of the Clean Water Act (concerning the discharge of dredged materials into navigable waters) and §10 of the Rivers and Harbors Act of 1899 (obstructions in navigable waterways). NOAA Fisheries comments provided under the Fish and Wildlife Coordination Act are intended to reduce environmental impacts to migratory, estuarine, and marine fisheries and their habitats.

Coastal Wetlands Planning, Protection and Restoration Act

The Coastal Wetlands Planning, Protection and Restoration Act (CWPPRA or Breaux Act) authorizes critical funding and support for the restoration, protection, conservation, and enhancement of threatened wetlands in the Louisiana coastal zone. Under the Coastal Wetlands Planning, Protection and Restoration Act, NOAA Fisheries and other participating federal and state agencies are required to plan and implement large-scale coastal wetlands restoration projects that are significant on a local and national level. In 2004, Congress reauthorized the funding of the CWPPRA program through 2019.

Endangered Species Act

The act provides for the conservation of endangered or threatened species of fish and wildlife and their habitat. It also provides for the listing of species determined to be endangered or threatened by the Secretaries of the Interior or Commerce, with NOAA Fisheries responsible for most marine, estuarine, and anadromous species. NOAA Fisheries provides biological opinions to federal agencies, prosecutes violations, and issues permits to states, local governments, and private landowners for activities that might harm listed species. NOAA's habitat program strives to protect and restore habitat that sustain listed species and improve related ecosystems.

Comprehensive Environmental Response, Compensation, and Liability Act

The Comprehensive Environmental Response, Compensation, and Liability Act authorizes the President to act on behalf of the public as trustee for natural resources regarding the release or threatened release of hazardous substances in the environment. This authority has been delegated to NOAA for resources for which the agency has management or protective responsibilities. As such, the Act requires NOAA to seek damages on behalf of the public to restore natural resources within the scope of its trusteeship that are injured by the release of hazardous materials.

Oil Pollution Act

The Oil Pollution Act authorizes the President to act as a trustee for natural resources and to recover damages to natural resources for the discharge or threatened discharge of oil into navigable waters or adjoining shorelines. NOAA has been delegated this trustee authority with respect to natural resources for which the agency has management or protective responsibilities.