Tweets by @NOAAHabitat

Our Progress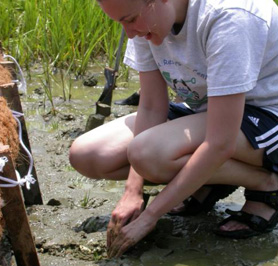 Administrative Priorities
Implemented 50 large-scale restoration projects around the country using $167 million in funding from the President's American Recovery and Reinvestment Act of 2009. So far, we've supported hundreds of jobs at projects that have restored more than 1,800 acres of habitat and opened more than 300 stream miles for fish passage.
Completed a new strategy in 2010 in collaboration with other federal agencies to implement President Obama's Executive Order to restore and protect the Chesapeake Bay.
Support the Great Lakes Habitat Restoration Initiative by awarding $9.5 million in 2010 for nine projects throughout the Great Lakes Region. These projects will restore more than 700 acres of habitat and open more than 100 miles of river for fish passage.
Habitat Protection
Protected nearly 980 million acres of fish habitat from impacts of fishing gear since 2000.
Reviewed about 30,000 permit actions since 2005 to minimize adverse impacts to essential fish habitat.
Helped open more than 1,000 stream miles through the hydropower licensing process.
Achieved special designation in 2010 to protect 23,000 square miles of deepwater coral habitat off the southeastern U.S. coast.
Habitat Restoration
Began the restoration planning process with state and federal partners to address the impacts of the Deepwater BP oil spill.
Restored 69,000 acres of habitat through 2,300 community-based restoration projects since 1996, including 300 acres of oyster reefs.
Restored more than 8,000 acres of coastal wetlands in Louisiana since 1997.
Removed 200 dams and other barriers since 1998 and opened more than 2,000 stream miles for fish passage since 1998.
Helped settle 235 natural resource damage assessment cases by the end of 2010, generating more than $550 million to protect or restore thousands of acres of habitat.
Habitat Stewardship
Engaged more than 232,000 volunteers in more than 1 million hours for habitat restoration since 2000.
Reached an estimated 390,000 students and 17,500 teachers through the NOAA Chesapeake Bay Office's Bay Watershed Education and Training (B-WET) Program since 2002.