Oysters Are Habitat, Too!
Oyster stuffing, oyster stew, scalloped oysters … oyster dishes are holiday favorites. But that's not why they are November's Habitat of the Month!
In addition to being a highly valued U.S. fishery—primarily from the Gulf Coast, Pacific Northwest, and Chesapeake Bay—oysters also serve as habitat for a range of species.
As generations of oysters grow, they form reefs and beds that provide habitat for a variety of important marine species. Fish and other animals hide from their predators in the reefs' crevices. Oysters are also filter feeders: Simply by eating, oysters help clean the water. By increasing the clarity of the water, they allow more sunlight to help underwater grasses—which also serve as habitat—to grow. These reefs also help prevent erosion and can protect shorelines from storms.
But not all oyster populations are doing well. In the Chesapeake Bay, oyster reefs were once so large that they posed navigational hazards to ships. But oysters in the Bay have suffered from overharvest, disease, poor water quality, and the loss of appropriate places to grow. The oyster population is now less than 1 percent of what it once was. Fewer oysters means not only a loss of habitat, but also reduced income and jobs for workers in the oyster industry.
NOAA recognizes the important role oysters play in providing habitat. We're working with other federal and state agencies, nonprofit organizations, and academic institutions to increase oyster populations around the country. Some of these projects include:
Alabama: A project funded by the Recovery Act is focused on oyster restoration in Alabama's Mobile Bay and Portersville Bay. These reefs will absorb wave energy from storms and boat activity, protecting the shoreline from erosion while enhancing habitat for fish, birds, and invertebrates.
Chesapeake Bay: One of the goals set forth in the federal response to the President's 2009 Executive Order on Protection and Restoration of the Chesapeake Bay is to restore healthy populations in 20 Chesapeake Bay tributaries by 2025.
Washington: Projects in Puget Sound are rebuilding populations of native Olympia oysters in areas that historically supported core populations. In addition, we are supporting our partners to measure oyster bed benefits to seagrasses and fish.
Just because some oyster populations are struggling doesn't mean it's bad to eat oysters. In addition to fisheries that are managed by states, in many areas, aquaculture efforts mean that oysters are grown to be eaten rather than to serve as habitat. So search out sources of aquaculture-grown oysters and enjoy your oyster stuffing!
Oysters do double-duty: They're a fishery and a habitat. We need them for both reasons!
Posted on 11/19/2012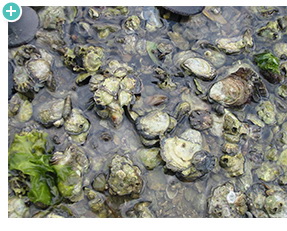 Useful Links
Habitat of the Month Archives